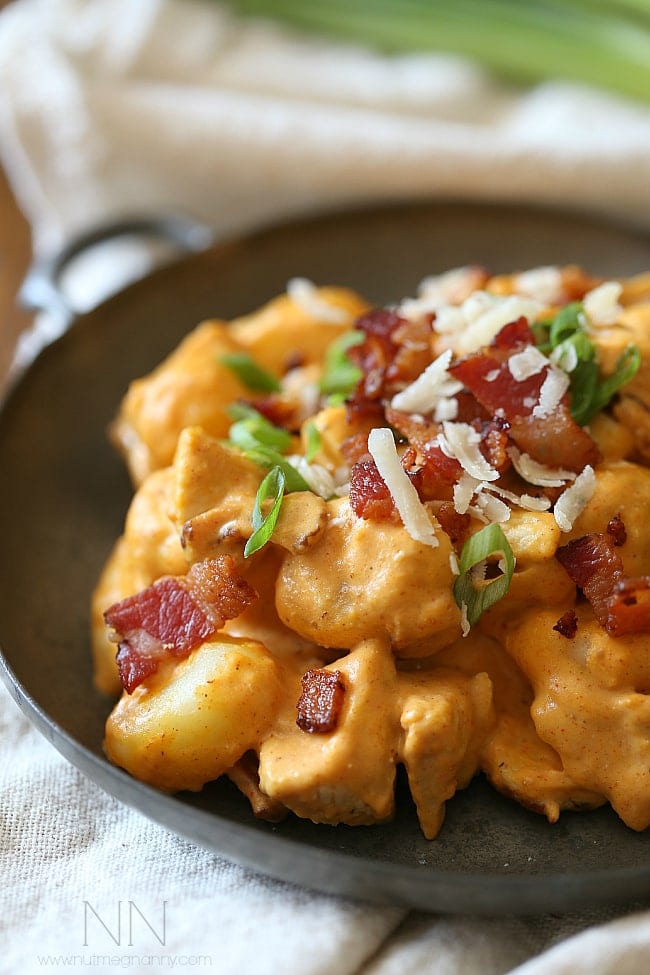 Fall is here and we at Nova Vision Care just love it!  Sweatshirts, bonfires, s'mores, the leaves are changing, and you can find pumpkin flavored everything!   Pumpkin not only tastes great, but it helps promote eye health and protect your vision. Pumpkin contains an abundance of zinc, Vitamin A, beta-carotene and Vitamin C. These nutrients are essential in maintaining superior eye health and preventing future eye conditions and diseases.
Below is a fun recipe with an ingredient that promotes eye health.  Do your eyes a favor and give it try this fall.
Chicken Bacon Pumpkin Gnocchi
This chicken bacon pumpkin gnocchi dish is ready in under 30 minutes and is packed with perfectly cooked chicken and bacon in a creamy pumpkin sauce.
Yield: 4 – 6 SERVINGS  Prep time: 10 minutes  Cook time: 20 minutes Total time: 30 minutes
INGREDIENTS:
2 packages gnocchi (about 2 pounds)
8 strips bacon, diced
2 boneless skinless chicken breasts, diced
8 ounces cream cheese, cut into cubes
1 cup pumpkin puree
1/2 cup Parmesan cheese
2 teaspoons smoked paprika
1/2 teaspoon chipotle chile powder
1/2 teaspoon garlic powder
1 cup half and half (or whole milk)
Kosher salt and pepper, to taste
3 green onions, sliced
DIRECTIONS:
Bring a large pot of water to boil over high heat. Add gnocchi and cook according to package directions.
Once cooked drain, drizzle with a little olive oil (to keep moist and from sticking together) and set aside.
Set a large skillet over medium heat and add bacon. Fry until crispy and remove from pan to a paper towel lined plate to help drain off any remaining fat.
To the pan add diced chicken and season with kosher salt and pepper. Cook until no longer pink. Remove chicken from the pan and set aside.
If there is a lot (more than a tablespoon) of fat remaining in the pan, drain and then add cream cheese.. If not skip the draining and directly add in cream cheese. Stir gently until it starts to melt.
Add in pumpkin puree, Parmesan cheese, smoked paprika, chipotle chile powder and garlic powder. Stir to combine.
Add in half and half and stir until combined.
Add gnocchi, chicken and bacon to the pan. Stir together and let sauce cook for 5 minutes to warm the gnocchi and chicken throughout. At this point the sauce should have thickened up nicely. If the sauce is too thick add a little more half and half, if it's too thick let it cook down just a little more.
Taste the dish and season with kosher salt and pepper if needed.
Sprinkle the finished dish with green onions and serve immediately.
The pumpkin used in this dish is proven to not only help your vision health, but is also known to help prevent eye conditions such as cataracts, macular degeneration and visual acuity. Implementing pumpkin foods into your diet will not only nourish your body, but your eyes will thank you for providing them with essential nutrients.
Vitamin A- helps protect the surface of the eye, also known as the cornea, and is also known to lower age related macular degeneration.
Lutein & Zeaxanthin- helps reduce the risk of chronic eye diseases, including cataracts and age- related macular degeneration.
Beta – Carotene- is known to also help prevent age – related macular degeneration, dry eyes and night time blindness.
After you have enjoyed a delicious pumpkin recipe this fall remember that a comprehensive eye exam is still the best way to protect your eyes. So call Nova Vision Care today to schedule your exam.  We are conveniently located in Beavercreek, OH.  If you have any questions or concerns please contact us at (937)320-0300.